Virtual Visit to the Repository
Explore this page to learn more about the repository, take a self-guided tour through our new facility, watch videos of the coring process, and look up close at some of our Oregon cores with a StoryMap Core Tour.
Introduction
The OSU-MGR is the largest facility of its kind in the country. With the 2018 addition of the Antarctic Core Collection (previously housed at Florida State University) the repository now archives over 22 miles of sediment core and more than 10,000 rocks.
Researchers around the world can access these samples to investigate a wide range of questions about Earth's history and processes.
In this video, OSU faculty Joe Stoner, Maureen Walczak, and Maziet Cheseby discuss the repository and what can be learned from cores.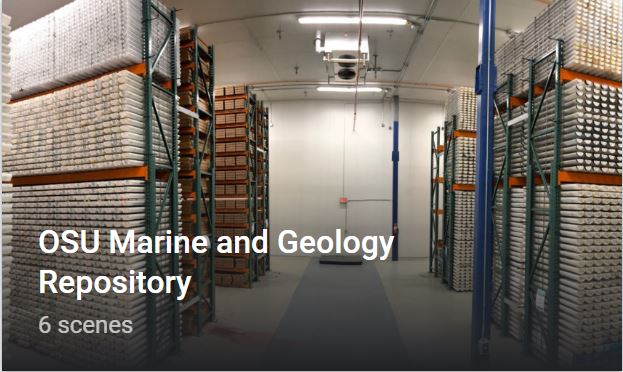 Self-guided Tour
Ready to see the facility? Take a self-guided tour by clicking below. There are six scenes in this tour, with many points of interest that you can click on to learn more about the repository and see additional photos. We begin in the cooler, at a chilly 37°F…
How to Collect a Core
Box cores, multi cores, piston cores, vibracores, kasten cores, push cores- these are all methods scientists use to collect samples of the seafloor. Which method to use? It depends- where is the coring taking place? what is the scientific goal? what are the capabilities of the ship? Below you can learn more about two of these methods, piston cores and push cores.
Piston Cores
The majority of the cores in the repository are piston cores because it is the most effective way to collect long cores. Longer cores go further back in time. Here's how piston coring works.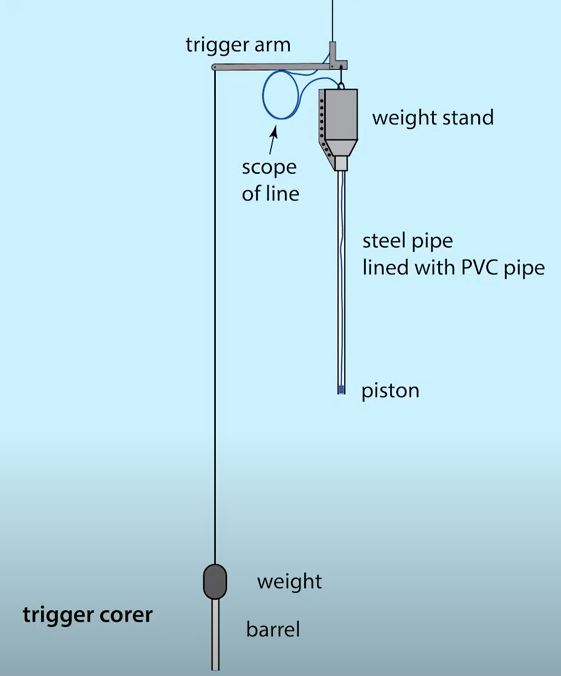 "Push Cores"
It is not always possible to take a piston core. The sediment type, the ocean conditions, the water depth- all present challenges to collecting cores. But determined scientists find other ways to get their samples. The video below shows OSU graduate students collecting a core in an Oregon salt marsh.
Core Tour
Want to learn more about some of the cores? You can read about four cores collected around Oregon by clicking on the image below. In the future we plan to highlight additional cores and the stories they tell.